"If you think you can't, you won't. If you think you can, you will."
Eiji Toyoda
Lexus remains a refreshing breath of fresh air within the premium automotive industry. It almost literally willed itself into the prestige market and has stuck to its guns through economic downturns.
While many marques try to make their cars go faster, scream louder and look flashier, Lexus make cars that are silent, classy and understated.
That's not to say that Lexus doesn't have ambition.
When Lexus was first envisaged, maverick Toyota chairman Eiji Toyoda gathered a select few executives together and announced his plans at a secret meeting. Here he promised that Lexus cars "will be the finest cars ever built".
That's aiming pretty high!
While Japan continues to lead markets across the world with its family cars with personality, Lexus aimed from the first at an altogether different target. Firmly in its sights is the US luxury car market.
Eiji Toyoda was perfectly aware of the challenge he faced. He admitted that "BMW, Mercedes and Jaguar have spent decades building an image of prestige." Yet, he continued, with ambition Lexus could succeed.
Lexus remained firmly under wraps during its six years of development under the codename F1, or Flagship One. A huge amount of work was put into researching and developing every aspect of the car, its production and the high-quality dealerships and customer service Lexus set out to provide. They went so far as to rent a house on Laguna beach to use to observe American luxury consumer habits and lifestyles.
After a mammoth effort involving six years, 24 engineering teams, thousands of employees, 450 prototypes and a $1 billion investment, Lexus was finally ready to launch at the North American Auto Show in Detroit.
1989
Project F1 was revealed to be a luxury sedan named the Lexus LS 400.
The LS 400 was efficient, reliable and silent as an assassin. Indeed the first casualties left in its wake were Mercedes and BMW sales, both of which dipped painfully as Lexus established its presence and intent.
To twist the knife in further, Lexus invited a crowd of motoring journalists to its company offices in Cologne, Germany – the heartland of its competitors, and revealed the LS 400 on the lawn.
Germany's autobahns, with their lack of speed limits, were a perfect way to allow motoring journalists to test its capabilities. Journalists likened the silence of the engine at high speed to a cat stalking its prey. This powerful strategic move showed its competitors that Lexus meant business.
Accompanying the LS 400's launch was a multimillion dollar advertising campaign, including a classic ad showing the LS 400 on a treadmill revving to 241 km/h. As the camera zooms out to reveal a pyramid of stacked champagne glasses balanced on the bonnet – steady and unmoving. This image of luxury, precision and grace is exactly what Lexus aims to be.
1990
Lexus was quick to capitalise on its flying start.
In its first full year of sales in its target market of the USA, Lexus sold 63,594 LS 400s and ES 250s, the sedan that followed hot on the heels of its predecessor. Eager to expand, Lexus began shipping to new markets, such as the UK, Switzerland, Canada and Australia.
Shortly after the release of the LS 400, Lexus received two customer complaints about defective wiring and overheating brake lights. Lexus lived up to its slogan (the relentless pursuit of perfection) and relentlessly recalled 8,000 cars for fine tuning in an intense and almost unprecedented 20-day operation.
As dealerships were few and far between, Lexus sent technicians to customers' homes, picked up their cars and returned them with a full tank of petrol and a coat so shiny you could see your face in it. They even flew employees out to owners in the most remote locations. Lexus saw its customer service as one of the most integral parts of owning its vehicles and were applauded by customers and the media.
1991
Lexus launched its sports coupé, the SC 400 – powered by a beefy V8 engine and sharing the LS 400's rear-wheel drive design.
This was quickly followed up with the ES 300 sedan.
The SC 400 design was inspired by a rather idiosyncratic method. A small group of designers was sent to learn fine art, sculpture and other forms of classical art. They were instructed to use this outside-the-box training and apply it to the increasingly stagnant field of designing cars. This attempted fusion of the archaic and the modern has critics scratching their heads and provoked outright scepticism from other car manufacturers. It certainly created some press coverage, however, which may just have been the point.
The ES 300 looked simple enough from the outside, but inside it had walnut trim, comfortable leather seats, and an eight-speaker premium sound system. It quickly became Lexus' top selling car.
By the end of 1991, Lexus became the highest selling premium car import in the USA. Lexus had achieved its dream of breaking America in just two years.
1993
Lexus launched the GS 300 sports sedan, that was a based on the Toyota Aristo.
The GS was designed by Giorgetto Giugiaro of Maserati fame. The initials stand for "Grand Sedan" but on this occasion the Lexus model proved not grand enough. Despite being driven by a V8, the GS 300 was out-performed by other cars in its class and was met with lukewarm sales.
1995
Lexus came under fire after the U.S government proposed 100% tariffs on Japanese luxury vehicles as part of a much larger trade dispute.
These tariffs could have destroyed the front running position Lexus had fought so hard to gain. Luckily, after a tense standoff, Lexus agreed to let in more American investors and the tariffs were obligingly dropped.
1996
Lexus debuted its first SUV, the LX 450.
The LX 450 was carefully crafted in response to its customers, and was said to be "tailored to their wants and needs". It was based on the well-known Toyota Land Cruiser.
The LX 450 was rushed into production due to the threat of government tariffs in 1995 – SUVs would have been exempt from these costs.
1998
After the success of its SUVs and sedans, Lexus decided to blend the best features of both. They created the RX 300, which became its top-selling model within the year.
It was aimed squarely at suburbia, giving customers the space and comfort they needed, but removing the expensive and unwanted off-road capabilities of the LX series.
It was smaller than most SUVs yet it did not compromise on space inside. Importantly it drove more like a premium car than a large truck. It was also dependable and economical, with a smooth and quiet ride.
A USA Today reporter said of the LX 450 that "it is big, hulking and smooth as a baby's bottom".
The LX series currently accounts for around 40% of Lexus sales.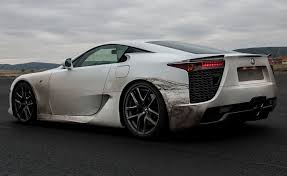 1999
Now an established household name, Lexus celebrated its 10th anniversary by launching its racing career.
Lexus entered two souped up GS 400s to the Motorola Cup, and the luxury four-door sedan took four podium finishes in its first nine races.
2001
This was a highly productive year for Lexus.
First, it launched the IS 300 – a slick, four-door sedan with a new and improved V6 engine. This squat, muscular car was balanced with precision and elegance – the instrumentation was inspired by high-priced luxury watches and automatic climate control came as standard.
Lexus also released its first convertible grand tourer, the SC 430. This V8-powered hardtop automatic was inspired by the Côte d'Azur – a retreat for the aristocrats and superyacht owners of the world.
2004
Lexus broke new ground by releasing the world's first luxury hybrid SUV, the RX 400h at the North American International Auto Show.
The revolutionary hybrid engine could reach 0 – 100kph in 7.3 seconds, and had unparalleled fuel economy. Many consumers saw hybrid cars as pale, vegan comparisons to their gas-guzzling, beefy cousins, but by launching a powerful hybrid off-roader Lexus aimed to break the mould and shatter people's preconceptions.
2005
Lexus finally launched in its home market of Japan in July 2005.
Previously, many Lexus models were being released as Toyota counterparts, but now for the first time Japan saw new generations of the LS, IS, ES, GS and RX models.
Lexus used Japan as a launching point to take on the rest of Asia, and quickly became the top-selling import in both South Korea and Taiwan, with further success throughout the Middle East.
2006
In another attempt to rebrand hybrid cars, Lexus entered the GS 450h into Japan's 24-hour race at the Tokachi International Speedway in Hokkaido where it finished fourth in class.
The GS 450h was a four-door, rear-drive V6 hybrid performance sedan and it helped launch the LS model line.
2008
Lexus hit the small screen in a big way through the 2000s. With cameos in the HBO classics Six Feet Under and The Sopranos, as well as appearances in perennial like Modern Family and Breaking Bad, Lexus became one of the most seen luxury car brands across all of prime-time US television.
In other media a Lexus was used to represent the car of the future in the Tom Cruise thriller Minority Report, and Jay Z boasted on his hit "Somewhere in America" of his Lexus ownership.
2009
Lexus closed the decade by celebrating its 20th anniversary in flying colours. It was the fourth-largest premium car make worldwide by volume, and had been the number one selling premium car marque in the USA for ten years in a row.
Lexus had achieved in 20 years what many marques have struggled to do over a century.
But Lexus was not resting on its laurels. In a bold move it pulled out of selling petrol-powered models in Europe, becoming hybrid only due to higher hybrid sales.
Yet it was pulled in an opposite direction stateside as it released the LFA exotic coupé. This two-seat supercar is powered by a 4.8-litre V10 engine with a top speed of a blistering 335 km/h. The engine exceeds European emissions standards.
Akio Toyoda himself took the prototype LFA to the infamous Nürburgring under the pseudonym Morizo Kinoshita to take part in its 24-hour endurance race "to get more feedback on the production". He managed to secure just 18th position which reflects, perhaps, more on his driving skills than the car's performance.
2010 and beyond
Lexus revolutionised hybrid cars again by releasing the CT 200h – the world's first hybrid premium sport compact hatchback.
The CT 200h was aimed at younger, more environmentally conscious drivers who wanted high driving enjoyment, environmental credentials and no lowering of performance. This zippy little number looked like an ordinary hatchback, but came full with bells and whistles such as touch sensors, dual-zone automatic climate control, iPhone connectivity and cruise control.
Lexus revisited the LFA super car to launch a new range of F models focused on high performance, fine-tuned handling and loud exteriors with a sporty UI. Each of the F models contains a uniquely designed engine, like the 5.0-litre V8 in the RC F that produces over 460 horsepower with ease.
2014 saw Lexus rejoin the racetrack at the Geneva Motor Show with the RC F GT 3 concept. This was one of the most powerful cars Lexus had ever made, with a modified V8 capable of 540 horsepower in a car that weighed in at just over a tonne.
Perhaps the best way to sum up Lexus is to look at its Shimamoku wood steering wheel. This beautiful handcrafted steering wheel takes 38 days to make from start to finish. There are 67 highly specialized stages of production, including a complex layering technique Lexus refined specifically for this wheel.
If that isn't the "relentless pursuit of perfection", then what is?
Lexus are driven to achieve perfection. And that's why we drive them.
Discover more about Lexus
The official site for Lexus
Lexus' Official YouTube Channel
Video updates, race footage and fun stuff
Australia's leading Lexus Owners Forum