Holden
With his roots in the manufacture of saddles in the mid-19th century James Alexander Holden was quick to swap to a newer form of horsepower as cars entered the Australian market.
At the turn of the century, and thanks to the insistent interest in cars of his grandson Edward, Holden switched their business to the repair and fitting of upholstery, and it wasn't long before deals were being struck with General Motors which led to a lasting alliance.
The rest, as they say, is history, but what an illustrious history it is. And, despite recent ruffles, long may it continue.
Here are some of the highlights of Holden.
Holden timeline
1908
Holden & Frost switched from saddles to car upholstery
1919
Holden's Motor Body Builders Ltd was founded in Adelaide, reflecting the emphasis on full-scale production of vehicle body shells that war-time shortages had paved the way for. By 1923, 12,000 units were being produced each year.
1924
Holden became the exclusive supplier to General Motors in Australia, manufacturing from their new plant in Woodville, South Australia.
1926
General Motors (Australia) established assembly plants in Queensland, New South Wales, Victoria, South Australia and Western Australia.
1931
Not for the last time in its history economic conditions led to changes to the way that Holden functioned. The Great Depression saw production decrease from 34,000 units in 1930 to just 1,651 units in 1931. General Motors was not slow to seize the opportunity and purchased Holden Motor Body Builders. The merged operation became General Motors-Holden's Ltd (GM-H).
1939
A further break in proceedings was caused by the Second World War. Prior to it Holden had completed their development of a full-scale car factory in Port Melbourne, and had begun work on another in New South Wales. Car production was replaced by the military needs yet, during the war, behind the scenes, the Australian government was exploring with GM and Ford the feasibility of a truly Australian car.
1948
Holden was keen to retain the concept of an Australian car. GM had seen Ford off with a proposal that involved little from the government, but strongly favoured an American design for the car. Holden sought to retain an Australian design for an Australian car, but, in the end, the Holden car (officially called the 48-215) was launched with a design based on a proposal from Chevrolet.
The car quickly dominated the local market, thanks to its ability to deal with the rugged roads and tracks of rural Australia that asked way too difficult questions of many imported models.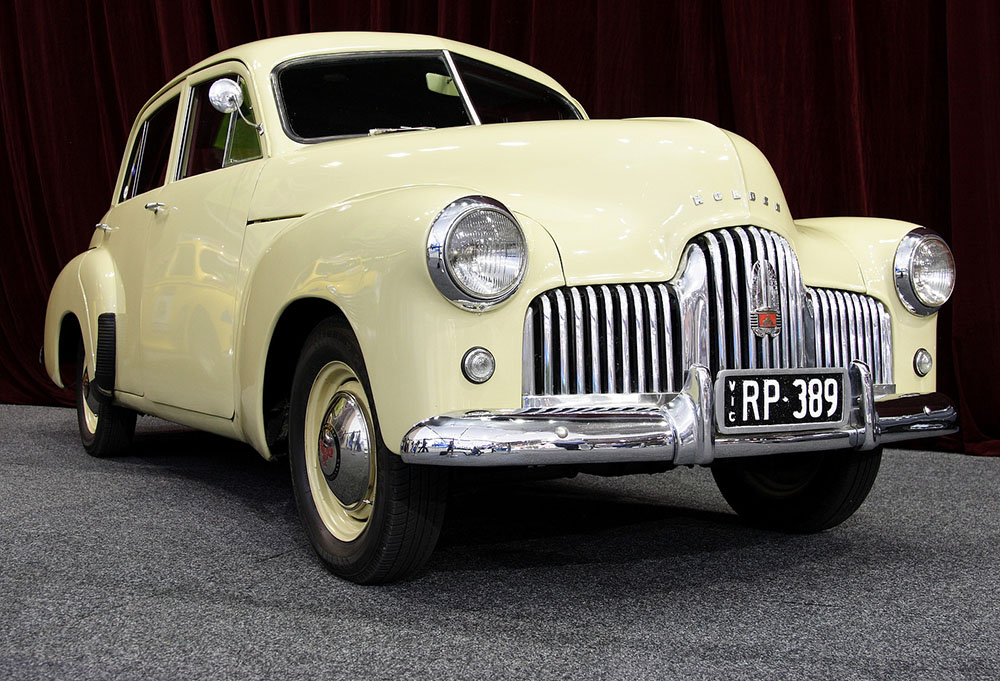 1951
The introduction of sedans and the 50-2106 Coupé Utility, affectionately, and enduringly, known as the Ute, in 1951 simply cemented the workhorse appeal of the Holden, and the face-lift and dominant horizontal grille that was given in 1953 to the FJ model made it a deserving icon.
1956
Five years later the FE was launched adopting a 'Station Sedan' style and the earlier export forays into New Zealand were bolstered by moves into Asia and Africa. It was at home that sales were strongest, however, as the FC model launched in 1958 Holden could boast a 50% domestic market share. It also provided, with the opening of a new production facility in Victoria, 19,000 jobs in Australia (although some assembly was being moved overseas).
1960
Holden launched its third major new model, the FB, which was visibly inspired by 1950s Chevrolets, perhaps a little after the fact for some tastes. The Holden had come full circle from its original Chevrolet designs to its copied designs of later ones. The FB was the first model for which left hand export versions were produced as Holden sought new overseas markets for its cars.
As competitors appeared on the Australian market, including the Ford Falcon, Holden quickly introduced a new series of models with minor adaptions and improvements. These included the EK series (1961), EJ series (1962), EH series (1963) and the HD series (1965). Despite this flurry of nervous activity there was, in reality, nothing to fear as none of the imported cars actually had Holden's main point of competitive difference: its ability to cope with road conditions in Australia.
1962
Holden had now sold a million vehicles, and a million more were sold over the next six years.
1964
Holden employee numbers, at 23,914 across seven facilities, reached their highest ever level, and this figure would not be eclipsed in the future.
1966
Holden became the first local manufacturer to fit seat belts on all of its models.
1967
The Holden Torana replaces 1964's Vauxhall Viva. The LC Torana of 1969 was fitted with Holden's six-cylinder engine and had been initially developed specifically for motor racing, benefitting from Holden's new three-speed automatic transmission.
1968
The HK, launched in 1968, included a V8 engine that had been imported from Canada. Models based on the HK series included the prestige model, the Brougham, and the iconic two-door coupé, the Monaro. The first Australian-designed and produced V8 debuted shortly after in 1969.
1969
The two millionth Holden came off the production line.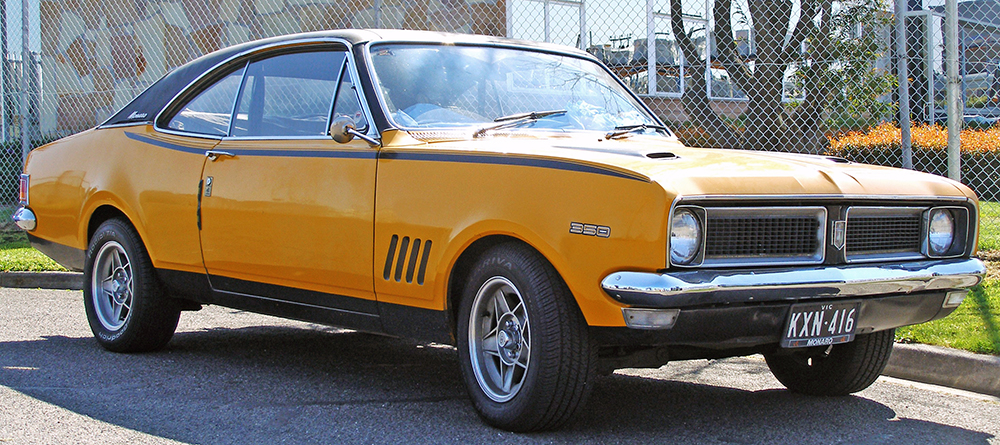 1970s
In 1975 Holden celebrated 25 years of continuous sales leadership and announced just two years later a massive expansion programme, including a new engine plant for Fishermans Bend. Its success looked set to continue with the launch, in 1978, of its most popular car to date, the Commodore.
1980s
Holden faced some challenges in the 1980s: after years of failing to live up to its threat the Ford Falcon eclipsed sales of the Holden Commodore and became the best-selling Australian car.
Holden made the controversial decision in 1986 to use a Nissan engine in its new VL Commodore, but this did not prevent it reclaiming its number one spot as Australia's top car manufacturer by the end of the decade.
1990s
John Bagshaw, the last ever Australian Holden boss, left in 1990 and, the year after, Japanese car-maker Toyota replaced Holden as the market leader in Australia.
2000s and on
In 2003, a new V6 engine plant was opened in Port Melbourne and Holden begun exporting to Korea, China and Mexico.
Holden's market share had fallen to just 15.2% in 2006 and Toyota staked its seemingly unassailable claim as the best-selling car manufacturer in Australia.
After declining fortunes and financial troubles Holden had to rely on a series of government grants to remain a going concern. In mid-2013 it was widely rumoured that, despite this, Holden was actually losing money on every car that rolled off the production line.
Desperate measures were sought, including wage freezes, redundancies and assembly line reductions, but none of these cuts were enough to prevent General Motors fateful, but perhaps inevitable, announcement of 10 December 2013.
In December 2013 General Motors announced that Holden will cease engine and vehicle manufacturing operations in Australia by the end of 2017. A predicted 2,900 jobs would be lost as a result and the once figurehead of Australian car making will be reduced to a national sales company, a parts distribution centre and a global design studio.
The glory days of Holden continue to excite classic car lovers in Australia and worldwide. They command high prices, fairly regularly tickling, or tipping over, the A$1 million mark.
Discover more about Holden
Official site
The official site for Holden
Official YouTube Channel
Video updates, old car footage and fun stuff
Commodore Forum
A place to talk about your Commodore passion
Essential Holden History
Stories, pics and memories from the glory days